[Korea.net] Jogakbo quilting retains traditional patterns, colors
2015/01/07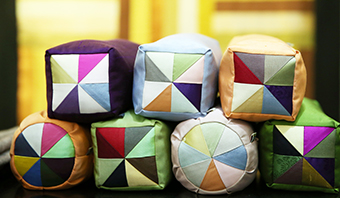 Pillows decorated in the traditional jogakbo patchwork pattern show the harmony of colors.

"The traditional arts will always be successful," said Kang Keum Seong, a handicraft designer at ViiN Collection. She makes bedding, clothes and craftworks using the traditional jogakbo patchwork quilting method.

"Compared with the intangible cultural assets and the masters who have been creating their works by toiling for many years, I am still a beginner," said Kang. She began to make jogakbo quilted products after becoming an adult.
Kang Keum Seong of ViiN Collection has succeeded with the traditional jogakbo patchwork quilting method by using traditional jogakbo patterns to create modern bedding and clothes, items which people use every day.


"Jogakbo is a gift inherited from the spirit of Korean women, the joys and sorrows of the commoners and the spirit of integrity upheld by the seonbi, traditional Confucian scholars, during hard times," she said in regard to the jogakbostyle of quilting, which shows traditional patterns and vivid colors.

"In past times of scarcity, our ancestors collected small pieces of cloth and stitched them together to make new things. Jogakboretains that spirit of our ancestors," Kang explained as she talked about the meaning of the traditional patchwork cloths.

When she was little, Kang was raised by three grandmothers in Andong, Gyeongsangbuk-do (North Gyeongsang Province). She grew up surrounded by sewing and clothes.

"I saw my maternal grandmother make Hanbok, the traditional Korean garb, and raise silkworms when she lived at her cousin's house. I began to make jogakbo bedding and my handmade silkworm pillows were really popular in Japan," said Kang.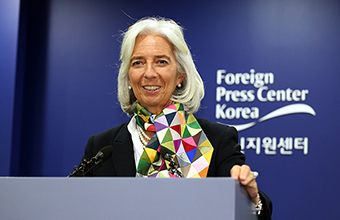 IMF Managing Director Christine Lagarde holds a press conference in Seoul in December 2013. She wears a jogakbo scarf which she received from former Minister of Gender Equality & Family Cho Yoonsun, who currently serves as presidential secretary for affairs of state.


Kang's jogakbo works were not solely bedclothes. Having thought about how to keep and harmonize jogakbo with modern society, she happened upon an answer when former Minister of Gender Equality & Family Cho Yoonsun asked her to make a special jogakbo scarf prior to IMF Managing Director Christine Lagarde's visit to Korea. The French professor Guy Sorman praised the scarf, saying, "It is hard to see such a variety of colors in any civilization. Korea well-preserves one of the finest traditional cultures and fashion scenes in Asia."

Jogakbo can be used to make various clothing items, too, not just scarves. It can be used to make a range of textile goods, from shawls, scarves and blankets made from cashmere to clothing items, socks and hats for babies. Jogakbo-decorated scarves were worn by leaders and their spouses at the ASEAN-ROK Commemorative Summit in late 2014.
"Creating jogakbo is not always an easy task, as it requires a lot of time to make every meticulous stitch," says Kang.


"When looking at jogakbo patterns, it reminds me of the furrows of the past," says Kang, adding that she even has global fans visit her shop in Insa-dong, Jongno-gu (district), where several international guests visit every day. Kang has many stories about her customers. One of her fans is a German regular who told her that the jogakbo blanket purchased from the shop was really popular back home in Germany. A Singaporean customer bought a large number of comforters, contacting the shop via email after going back home. A customer from Hong Kong even visited Kang's workshop after looking at various jogakbo handicrafts.

The pinwheel-shaped patterns of jogakbo represent the hope that a person's life can proceed smoothly. "Though it is not easy work, as each of the patterns holds a specific meaning and each creation requires a lot of labor, I will keep working with jogakbo," says Kang with a smile.

Article·photos by Jeon Han
Korea.net Staff Writer
hanjeon@korea.kr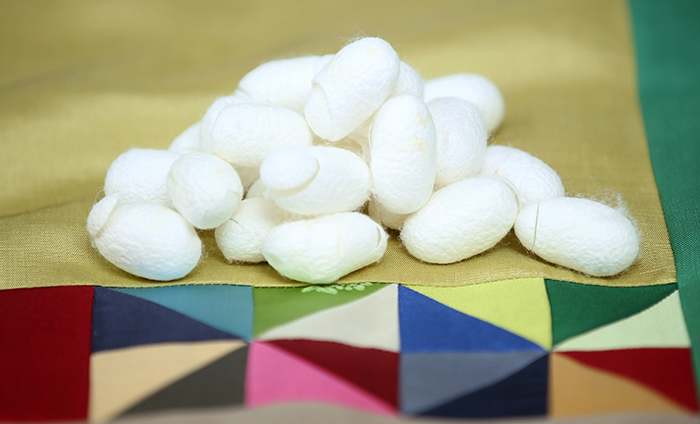 A jogakbo pillow is filled with cocoons or buckwheat.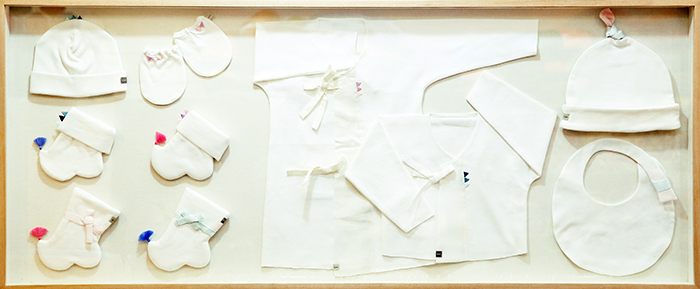 Jogakbo patterns can be seen in baby clothes. The triangle-shaped jogakbo pattern on the hem keeps away misfortune.
[출처: Korea.net] Jogakbo quilting retains traditional patterns, colors
http://www.korea.net/NewsFocus/Culture/view?articleId=124615