[The Korea Herald] Traditional baby clothes find niche with modern look
Traditional handmade baby clothes with a modern twist are gaining popularity through word-of-mouth in the high-end baby wear market.

"One-hundred percent hand-sewn baby clothes using traditional Korean fabric seem to appeal to moms, who look for items offering unique design and comfort to their newborn baby," said Kang Keum-seong, who runs Viin Baby, a newborn baby wear brand based on the design of the traditional Korean hanbok.

Kang, a famous traditional Korean patchwork "jogakbo" designer, debuted the baby clothing brand through limited retail channels, including The Galleria Luxury Hall, a high-end department store located in Apgujeong-dong, southern Seoul, in 2012.

Besides toddler clothes and accessories, Kang has for years supplied a variety of Korean traditional lifestyle items from blankets to pillows with the jogakbo design to The Galleria under the brand name of Viin Collection.

"Surprisingly enough, the best-selling item among our products displayed at Galleria last year were silk-based baenaet jeogori," she said. Baenaet jeogori is a traditional jacket without neckbands and gussets, designed for newborns.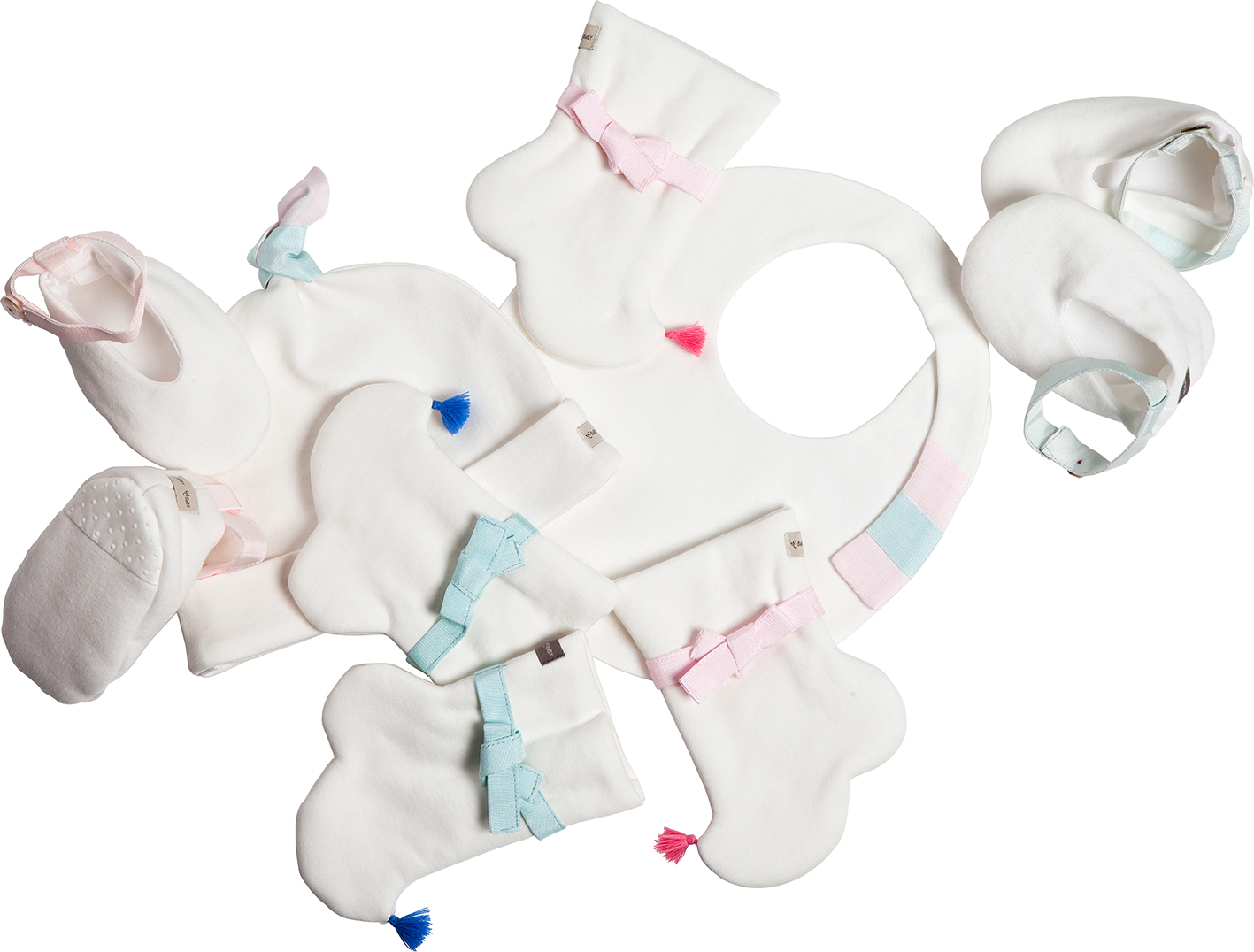 Viin Baby clothing for newborn babies

"Demand is exceeding supply for baby items, but we will keep the traditional way of clothes-making, rather than turn to the mass market."

Viin Baby's corporate client base also continues to rise. "For instance, a five-star hotel in Seoul offers a gift box composed of Viin Baby items to female employees when they deliver a baby as part of its female workforce welfare program," Kang said.

Behind the growing popularity of traditional baby clothes is the addition of a modern twist to traditional work.

"It takes considerable time to recreate an item with the limited functional improvements, while keeping the use of traditional design, color and fabric," Kang said.

She is working on recreating tradition for modern use with the podaegi, a traditional baby carrier using two long straps and a long blanket.

With the continued recreation work of traditional lifestyle items for infants, the Viin Collection CEO said she would make efforts to promote traditional Korean sewing arts and crafts overseas.

Kang is a globally recognized designer for her jogakbo work with triangle patterns dyed in various colors.

IMF chairwoman Christine Lagarde, who is known for her passion for Hermes scarves, also chose to wear the Korean artist's jogakbo scarf when she visited Korea in December.

Kang learned traditional needlework and its aesthetics, while growing up in a household where four generations of family lived together.

As her long-cherished dream, Kang is building an atelier for better communication with the world in Seochon, one of Seoul's largest clusters of traditional Korean houses.

Next year will be a watershed year to raise the global recognition of Viin products as she will unveil her first global collaboration project with a legendary Italian designer. Kang didn't want to reveal the name of the designer yet.

By Seo Jee-yeon (jyseo@heraldcorp.com)
[출처: The Korea Herald] Traditional baby clothes find niche with modern look